ravyn_ashling
So I skipped work again today because we were advised last night that the heavy rains would continue the whole day and nearly half of Metro Manila was still flooded. My office mates had the same idea (my boss told me that only he and three other bosses went in today), as well as some friends who work for companies that did not announce suspension for the day.
At around 10 AM, however, the skies began to clear a bit and we could actually see a bit of sun finally. Rainfall warnings were also
terminated
an hour later. To add to the good vibes, I was suddenly invited to watch
Smashing Pumpkins live
tonight (first time they've ever decided to hold a concert here, and I had wanted to go so badly when they announced it months ago but sadly
had to go on a tighter budget lately
) FOR FREE, and, since the weather conditions seemed to be getting slightly better, I immediately said yes.
Unfortunately, come 3PM, it started raining like fuck again--seemingly so much harder than last night that
PAGASA eventually had to raise
the
Red Warning Signal
again. With that and with the road I usually take in going home from QC (when I'm driving or taking a cab)
being impassable and suffering heavy traffic
, I decided to cancel on my companion. A ticket wasted is better than a life wasted for whatever might happen if I'd take the risk, or something like that. Still a fucking downer, though, especially when
Billy tweets stuff like this
. :(
But yeah. Not as heartbreaking as what's happening everywhere else--
not by a mile
: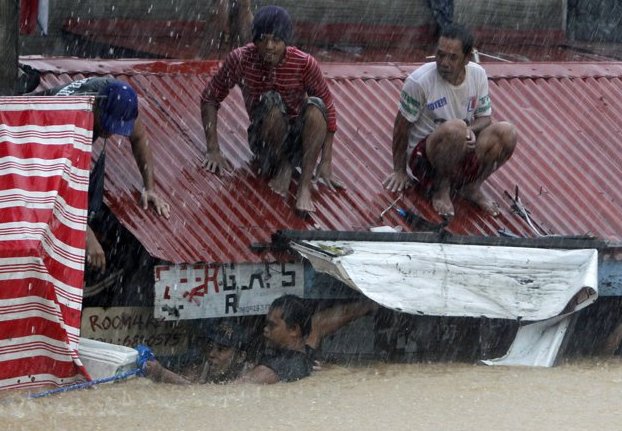 Spent the day online for updates, as well as helping out the people in this house pack relief goods and clothes to donate. Still doesn't feel like enough, though. Never feels like enough.